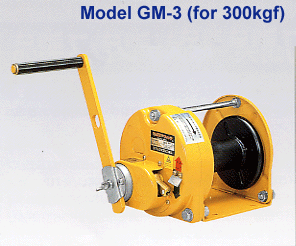 Product Details:
---
MAXPULL MACHINERY & ENGINEERING Co.,LTD.
Headquarters and Factory
1296-22, Nakaya, Nishifukai, Nagareyama-shi
Chiba 270-0107 JAPAN
Founded in 1976 as a specialist winch manufacturer in Japan.
Main Features :
Performance
Safety 
Durability 
Compactness 
Ergonomic
The Maxpull winch is World Class. Gravity is our only rival
Carefully selected materials as well as advanced design and technology provide the extremely high safety. We have enhanced the strength of the portions where load is intensively applied by combining a precision press-processing rib or double plate.
| | |
| --- | --- |
| Model | GM-3 |
| Max capacity | 980N (100kgf) 5? Winding of a wire rope up to 4th layer |
| Drum capacity | ?5X35m |
| Gear ratio | 1/1 |
| Handle force 1 | 1st layer : 143N (14.6kgf) |
| Handle force 2 | 3rd layer : 187N (19.0kgf) |
| Handle force 3 | 4th layer : 208N (21.2kgf) |
| Handle length | 250mm |
| Weight | 7.2 kg |
Manufacturer:
Maxpull
Product Type:
Winch