Forged Open Spelter Wire Rope Socket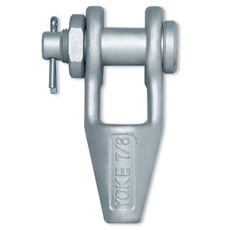 Product Details:
---
?YOKE Spelter Sockets are forged from special bar quality carbon steel with very finest hardness controlled. ?YOKE Spelter Sockets properly applied have an efficiency rating of 100% based on the catalog strength of wire rope. ?Socket size 1/4″ thru 3/4″ use one groove,7/8″ thru 1-1/2″ use 2 grooves. ?Open Spelter Sockets meet the performance requirements of Federal Specification RR-S-550E,Type A. ? S.C. = Self Colored.
In accordance with ASME B30.9 all assembly slings with poured Spelter Sockets, shall be proof loaded.
Manufacturer:
Yoke
Product Type:
Riggings & Accessories