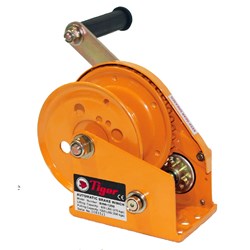 Product Details:
---
The original brake hand winch
The Tiger Brake Winch is a high quality multi-purpose winch used for a wide variety of lifting and hoisting applications. The automatic brake ensures the load remains suspended when the crank is released and avoids unchecked descent of the load; there is no freewheeling making the hand winch extremely safe to operate. All the mechanical components are enclosed for protection against dust, dirt and rain contamination. This equipment has a lifting capacity ranging from 800lbs to 2600lbs. The BHW is compact and lightweight yet rugged and durable.
These units meet and exceed all the requirements within BS EN 13157: 2004+A1:2009.
Manufacturer:
Tiger
Product Type:
Winch